Gyrotonic® for golfers has been realised by Juliu Horvath, the inventor of Gyrotonic Expansion System® and David Rasmussen, an instructor of Golf PGA.
The specialized exercises of Gyrotonic® Golf, have been created in order to increase the performances of professional and non professional golfers.
The only effective way to ameliorate is that of modifying the pattern of movements of your swing.
These exercises not only help you to reinforce your body and to make it more flexible, but they constitute also a specific training for golf.
Gyrotonic Expansion System® is based on three-dimensional movements in order to involve each part of the body in the swing.
Gyrotonic® offers to golfers the best combination of force and flexibility.
During a Gyrotonic® Golf session the movements that a golfer does during a match with arms, wrists, hands and torso are reproduced.
The training is valid for golfers of every age and level of training, it helps the athletes in reaching the physical excellence and playing with a level that have never been thought to be reached before!
With the
Gyrotonic®

Golf formation, it will be possible:
To play in a more correct way
To send the ball farer and more straight
To play without accidents (avoiding back strains)
To play simply enjoying
To increase the force of pelvis and shoulders
To reinforce wrists and forearms
To ameliorate the cardiovascular health
To increase the flexibility and the force in order to help to maintain the balance and to create a stability with the sole during the swing
To learn the correct movement of the inferior part of the body, the right position of the foot, the movement of the ankle and the correct displacement of the weight (in order to avoid knees' accidents)
To acquire the correct displacement of the weight on the side during the beat.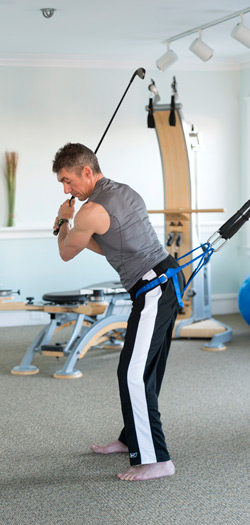 Subscribe to
Newsletter Ama Te
in order to discover all the news, the events and the suggestions of the Center Pilates AmaTe